Get Started With Your Own ERC20 Token Development Project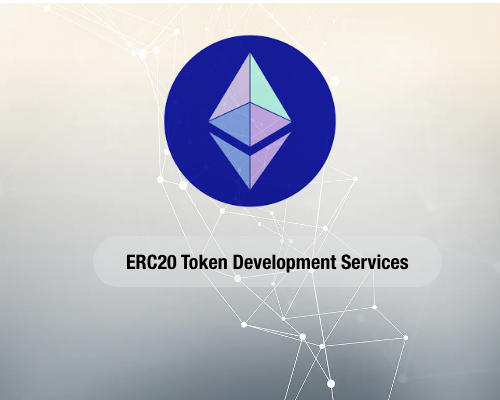 A token is a type of entity that is frequently used to ensure financial transactions in a variety of industrial verticals, depending on the stated goal. Each token carries a certain amount of value. Tokens have variable values. Depending on the domain, it will change.
An official protocol known as the ERC20 token is used to suggest improvements to the ETH, or Ethereum Network. The ERC20 tokens can communicate with one another according to a certain set of rules that are defined by the token standard.
ERC20 tokens are primarily different from Bitcoin in that they are created and housed on the Ethereum Blockchain.
Benefits Of Developing ERC20 Tokens
Developers are able to create DApps on the Ethereum blockchain with the aid of ERC20 tokens.
Benefits of ERC20 token development services include the following:
Lowest possible danger of contract termination
Quick and seamless transaction
Increased liquidity
More effective transaction execution
An accepted procedure in the industry
Ability to implement and execute tokens with ease
Assure quicker and more effective engagement with blockchain and tokens.
Smart contracts guarantee risk-free transactions
How Much Do ERC20 Tokens Cost?
The entire cost of creating the ERC20 tokens will vary depending on a number of factors, including the token's platform, design, distribution, and testing.
You may want to consider engaging the services of a reputable ERC20 token development business if you want to ensure the smooth development of ERC20 tokens. Then, you must ensure that your money is well spent.
On average if you are looking to make a simple tokenization contract, it will cost you between $500-$2000. You can create million / billion tokens and set your own pricing strategy.
Putting Customers First
Customers come first for all of our projects. For the best outcome on your ERC20 development project, we perform a complete analysis and design the solution based on the best possible liquidation
Experienced Developers
We have an experienced development team that developed multiple successful ICO and Token Launch Projects.
Technology proficiency
Our all-inclusive ERC20 token development package offers services for token creation, token transfer, ICO development, and token wallet development.
LET'S DISCUSS YOUR NEXT PROJECT
If you would like to learn more about our ERC20 token development services, please contact us today. We would be happy to discuss your project with you and provide you with a free quote